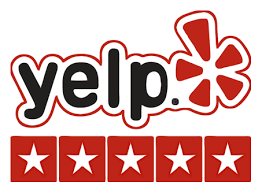 A FEW OF MY YELP REVIEWS FOR MY WARWICK, RI OFFICE
Including many that yelp has chosen not to feature yet until the reviewer writes more reviews. It's yelp's policy to limit display of reviews to weed out people who would just write numerous reviews for their friends and relatives.
The reviews on yelp are definitely sincere and real: unfortunately, they rarely display the first review from anyone and some of the reviewers listed here have complained their review was not features, so I created this webpage for both my Warwick, RI and Seekonk, MA offices. Posted with gratitude for the kind words and opportunity my clients give me to be of service in achieving often their most precious goals.
I am shocked John doesn't have more yelp reviews!
"I'm shocked that John doesn't have more Yelp reviews. He is AMAZING! This man changed my life. I saw him several years ago at the advice of a friend when I was struggling with drinking and wanted to stop. My session with him totally changed my life. He is far more than your typical hypnotist. He is a self-described "coach" and in my opinion, the best therapist you could ask for. He is gentle, kind, insightful, thoughtful, and wise. It is obvious that he has had many years of experience in working with all kinds of people who struggle with a wide range of problems. As I write this, I can proudly say that I am four years sober, and his treatment, coupled with my involvement in a program of support, forever changed my life. I had a session with John today to work on another issue and I felt the same sense of gratitude to be working with him again. I HIGHLY recommend John and firmly believe that if he could help me at a very low point in my life, he can help anyone willing to make a positive change in their life. Meg W., Jamaica Plains, Massachusetts"
I had an appointment with another hypnotist…
"I went to John eight years ago to help me stop smoking.  I had tried the gum and other things, but nothing worked. I had smoked for fifty years and was a confirmed heavy smoker. I liked his approach form the beginning. What I liked the best is that I could continue to smoke between the first and second sessions and smoke less between the next sessions. I believe that there were four sessions. During each session I would don head phones and John would speak to me in his soothing voice and I became quite relaxed. He would not chastised me for smoking or talk to me about the hazards of smoking--none of that. Between sessions, I would listen to the tapes of each session at home. I thought that I could never quit, but I did thanks to John.  The first few days were not as difficult as I envisioned. I have not smoked since nor have I had the urge. My nicotine addition is history thanks to John. I bless the day that he came into my life and he was not my first choice. I had an appointment with another hypnotist and he did not show for the appointment! Thank God, and I found John. Al M., Providence, RI"
John Koenig is an amazing hypnotist…
"John Koenig is an amazing hypnotist.  I have tried numerous times to quit smoking over the past several years, but each time I failed. That is, up until now! I am most surprised that quitting this time has not been a struggle, and that it feels very different!  I was at a point in my life that I knew without exception, that I had no choice but to beat this addiction, or I would have the addiction beat me. Three of my family members have died from lung cancer and I did not want to have the same fate.  I had never been to a hypnotist before, and had received this hypnosis session as a gift. I did go with an open mind, because of how desperately I wanted, to be successful. I will be forever grateful to John for his expertise, knowledge, sensitivity, and caring nature. Thanks John, I will be forever grateful, Sharon - Anne, Pawtucket, RI"
I went from a pack a day to being cigarette free…
"Wow, I cannot thank you enough John. After just one session, I went from smoking a pack a day to being cigarette free. I'm so happy and can't thank John enough. The money I have saved from quitting smoking has already paid for his services. I highly recommend consulting this man. Cat P, Providence, RI"
I've been struggling with anxiety at work..
"I've been struggling with anxiety at work and it's been slowly breaking my heart to bits. Ive been dealing with this for a few months and decided I have to do something about it, because I just wasn't getting the right kind of help. I contacted John and he was so kind over the phone and I immediately felt like he understood my problems and listened. I made my appointment and I went for my session, I have to admit the bright office was...well..really bright, but it's part of the magic to come, I promise! After one week my anxiety is down and my confidence is up!  I'm a 42 year old intelligent, business woman and I strongly suggest you give this a try. Grace F., Providence, RI"
I don't know where to begin
"I don't know where to begin, so to keep it simple, John Koenig is absolutely amazing.  He has saved my life, literally. I went to John to quit smoking and to my amazement it worked. I tried many times in the past with little success; maybe a day or two even a week, but always reverted back to my old habit. When I went to John he explained the therapy to me, told me what to expect and here I am today a much healthier, happier NON-SMOKER!!!! I wasn't expecting a miracle but I got one.  I wish everyone suffering from an addiction could experience my success, it feels amazing. John you are outstanding and I can't thank you enough!! I thank you and my loved ones thank you also!! I can't say this enough John is AMAZING!!! Sarah C., Mapleville, RI"
John is fantastic…
"John is a fantastic therapist! He takes his time to really understand your goals before providing treatment. I have been numerous times over the years to help with professional and personal development. Hypnosis certainly is a powerful tool. Brian S, Scituate, RI (Comment: I am not actually a therapist but a Hypnotic Coach and Hypnotist). "
Coming up on six years of healthy freedom…
"Coming up on six years of healthy freedom from cigarettes! Thank you for the wonderful work that you do! Steve S., Barrington, RI"
50 pounds lighter and a new lease on life…
"A+ Hypnotherapist and Life Coach, John is a man fully of warmth, energy and insight..  I treasure our sessions together and continue to rejoice in the New Me.  50 pounds lighter and a New Lease on Life.  You have earned and deserve every one of the five stars.  Thank you John. Mary P., Lincoln, RI "