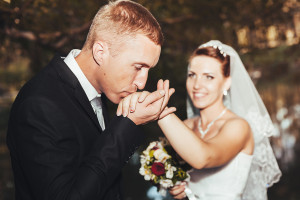 How to honeymoon for a lifetime (the First 50 Years)
June Weddings hold a special place in the mythology of love and romance.
The bride is always radiant, stunning in her flowing white gown. Her groom is nervous yet eager and attentive. Each seems literally enthralled with the other. Long gazes into their beloved's eyes. They have fallen for one other.
You might say they are hypnotized by each other. There is even biochemical brain activity that can be measured that creates and defines the state of "being in love."
They are about to enter that wonderful walking-on-air time that we call a honeymoon.
Click here – if you are curious  – to see a picture of my wife Maria and me on our wedding day – September 5, 1971 – 47 years September 2018.
 Honeymoon Hypnosis: New Love
In her eyes, he can do no wrong. In his, she is perfection. The casual way she leaves her clothes on the floor charms him. His fascination with televised football games is adorable to her…so cute and boylike. They are on a pink cloud of intimacy, discovery and sharing.
Unfortunately, this honeymoon is often a short-term event. Life has a way of sobering up even the most passionately "in love" people. He stops being charmed by her casual attitude toward neatness and begins to resent picking up after her. She gets tired of watching him watch televised sports and starts spending Sundays at her mother's.
This doesn't mean the love is gone. If the marriage is sound, a deeper working partnership is developing. Compromise and change are possible when both parties are willing to make the marriage work. As Antonine de Saint-Expupery, a French writer, said "Love does not consist in gazing at each other, but in looking outward together in the same direction."
But, nevertheless, the honeymoon trance is broken.
People begin to "act married." They take each other for granted and wonder where the magic has gone. Sadly, there is even an expectation in our culture that this is natural. This belief that honeymoons can't last becomes a self-fulfilling prophecy. And that is a pity because romantic love can be one of life's greatest joys and it certainly contributes to a happy and lasting marriage.
Fortunately we all know some couples who seem to keep the honeymoon magic alive. Through children, jobs, sickness and petty disagreements, they manage from time to time to rediscover that blissful entranced state.
Looking at their success from the principles of hypnosis and the power of suggestion, I see a couple of common elements.
Bring Back That Loving Feeling
It is obvious that romantic love requires certain conditions in order to thrive.
A honeymoon must begin with a physical and emotional attraction. There also has to be an interest in finding out everything about the other, an appreciation of the "otherness" of the other. Call it an element of mystery, intrigue, or unexplored depth. There must be an exciting sense of each lover discovering the other for there to be a true honeymoon.
Let us assume that a strong physical and emotional attraction exists as a base. But the art of honeymooning requires more than love and desire. It is also necessary that the partners like each other as people, as friends for a long-term romance to thrive. To sustain this in a marriage requires what I will call "selective attention."
Romance cannot survive where there are deep-seated grudges. Anger demands expression then, not love. My mother-in-law's only marital advice was that a husband and wife should never go to bed angry with each other. A very sound principle. Once lovers (married or otherwise) begin collecting evidence against each other for the other's shortcomings, they are proving to themselves that their significant other is not worthy. He or she is no longer Mr. or Ms Right, but Mr. or Ms. Whom I Must Make Do With. They relate to them as such and build a case of their spouse's inadequacy. This is largely a subconscious function. If the subconscious mind has an image of a person as a certain way, it will look for evidence to prove it is so. It loves to be right, even at the cost of a deadened emotional life.
To keep the honeymoon alive, it is necessary to make a conscious effort to battle this tendency. How? It's simple but not necessarily easy. Just make up your mind to focus on what you like about your spouse and minimize what you don't like. I am not saying you should ignore important issues. But consider the wisdom if it is not a major, unforgivable, potentially marriage-busting issue of making it a policy to work the problem out in a way that leaves both individuals with respect for themselves and for each other. Reserve your energy for appreciating your spouse's good and attractive qualities.
This is selective attention and, yes; it could be called a form of self-hypnosis. But it works.
Fall in Love with Someone New:  The Art of  Honeymooning for a Lifetime

When we make up our minds that we know exactly how our husband or wife is without room for deviation, there is no longer any uncertainty to hold our attention. They are like a mystery book that we have already read. We eliminate the element of pleasant surprise that characterizes courtship. What's more we actually inhibit the other's ability to change, grow and try new behaviors
The cure for this is to make another conscious effort to allow your husband or wife to change, to grow, in a sense, to become new. Rather than insist that he or she be the same today that they were yesterday in every aspect of behavior, give them the freedom to become someone new. If you both give each other this gift you will be delighted at the freshness and excitement that it provides.
The final condition for a sustained honeymoon is mastery of the language of love. Both partners must hear and feel the other's emotion and intention for the communication to be complete. Physical intimacy is just one part of it. There are limitless ways that lovers communicate with each other. Small kindnesses. Gentle touches. Special gestures. A single rose given simply to say I love you is an eloquent example of love language so is a favorite meal cooked for no reason or a quiet hug. The vocabulary of the language of love is well known. But its grammar is the intention to really be with the loved one.
There is no doubt that it is easy for people caught up in the demands of family, kids, work and just plain living to fail to have time left over for their spouse.
But it is an equally simple matter to choose to act as if you are on a honeymoon whenever you can. You don't have to get on a plane and go somewhere. All you have to do is take the time to really be with the one you love.
How hypnosis can help
Hypnosis can help make your relationship magical again in several powerful ways. First, you can use hypnosis and creative imagery to forgive your partner for the past, to let go of blame and resentment that has been tearing your relationship down. You may have forgiven them consciously. Hypnosis can help you truly let go of the burden of blame, consciously and subconsciously.
You can also use hypnosis and creative visualization to focus your attention on the good qualities of your partner. Those that attracted you to them in the first place and the ones they have today that you may have been taking for granted.
And, yes, hypnosis can even rekindle passion.
Like to see a picture of my wife and me on our wedding day in 1971? Click here