Like something more private on ZOOM or to come into the office (Fridays only)? It will cost a little more but I know some smokers prefer a private one-on-one approach. $375 for the ZOOM program and $495 for in person.
That's why nine out of ten cigarette smokers want to quit! Do you want to quit smoking? If so, you probably think it is harder to stop smoking than it need be, especially with the help of hypnosis and professional coaching.
So if you think it's time to stop smoking, I can help. No one can guarantee you will quit smoking: we always have free will,. But I know you can make it and have developed unique methods that can make it easier. Whether you want to go "cold turkey" or with  a patch or nicotine replacement gum, hypnosis can help make it easier to stop smoking once and for ever.
                     Independent Research Validates Hypnotism May be Best Way to Quit Smoking
University of Iowa reviewed 600+ academic studies of smoking cessation programs (over 72,000 smokers studied). Hypnotism was 3+ times more effective than nicotine replacement therapy (patches for example) and 15 times more effective than cold turkey.
A comparison study of smoking cessation programs was conducted by North Shore Medical Center and Massachusetts General Hospital. 50% of patients who received hypnotism and coaching exclusively were non-smokers compared 16% of patients who used nicotine replacement therapy 6 months later.
And by the way some former smokers not only don't gain weight when they quit cigarettes, they actually lose weight.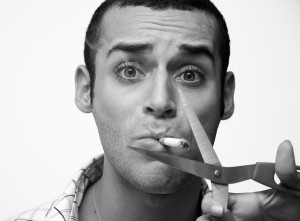 Three Session Hypnosis/Hypnotic Coaching Program
for People Who Have Tried Everything Else
Total cost: $495 (office visits) or $345 (ZOOM hypnosis) Includes 3 hypnosis sessions, recordings of your sessions, email support
(Expanded Stop Smoking Program for People Who Want Additional Support – just add more ZOOM sessions at a reduced rate or in office sessions at $165 each
I am simply amazed at the results
"I  am simply amazed at the results from the last hypnosis session. To go all day and night without the need for a cigarette is to me unbelievable.  To have absolutely no cravings for a cigarette is astounding.  This morning I had my usual two cups of coffee and with no cigarettes, didn't even want one.  The habit is there and it's associations but not the craving.  I'll keep in touch John. I'm really glad I came to you Respectfully Al T. (Seekonk, Massachusetts)"
My only regret is not seeking John out sooner
"
Hi John,
I am happy to say that I have been one month smoke free! I feel like I have been set free of this awful, disgusting habit that has had me in chains for so long. The only regret I have is not seeking you out sooner.
My car no longer stinks lol.... I no longer stink lol ...
I walk my dog without huffing and puffing half way through it. I remember when I was a smoker and getting half way through the walk thinking I had to quit smoking because I couldn't breathe and coming  home to using my inhaler.
I have recently increased the distance in my walk. Upon returning home I feel much more relaxed, center and in control.
I just returned from my trip to Aruba. I brought the CD and my stones. I am happy I did. The place had a lot of smokers there. I was literally surrounded by them at the tiki bar to have lunch and to enjoy happy hour. I don't know if I was disgusted or felt sorry for them or most likely a combination of both watching them inhale that poison. I can say that I passed that test with flying colors. I would listen to your CD as a reminder at night. It helps me stay centered, relaxed and focused.  Love those stones!!
 I can't thank you enough for your help and kindness. Like I said, the only regret I have is not seeking you out sooner.
Sincerely, Melissa B. Rhode Island
"
How My Smoking Cessation
Hypnosis Program Works
My program is private and customized to your needs. No groups to get lost in. It uses both your conscious and subconscious mind. Its goal is to effortless build willpower. You won't even be expected to stop at the first session. You will have the opportunity to stop at the second. Easily and permanently. The goal at the third session is for you to make it permanent. And the benefits of becoming a non-smoker go far beyond the money saved. Click here to find out more.
Session One:
 Start to Stop Smoking
Learn what hypnosis is and isn't.
Your questions/concerns about hypnosis answered
Discover your addiction patterns
Set your quit smoking date and develop a hypnotic plan to make it successful and as easy as possible
Homework (not written don't worry) between sessions one and two
Live, private 20-30 minute hypnosis session to program you to succeed
You will be hypnotized to help you get 100% ready to quit smoking. You will receive an audio recording of this session to play daily between the first and the second sessions. My clients continue to smoke between sessions 1 and 2. You should plan on cutting down smoking by 40%-50% between the first and second sessions by following a few simple suggestions.
Session Two
Your Quit Day
2-7 days after session one
Clean your ashtrays.
Get rid of all cigarettes.
Plant to leave the office a non-smoker
You will be guided into a hypnotic trance in which to choose to become a non-smoker. You will work under hypnosis to create a powerful aversion to the taste, smell and sight of cigarettes and to boost your motivation and willpower – this time to quit and stay quit! You will also be supported by hypnotic suggestions regarding your particular smoking issues such as fear of weight gain, trigger situations and other aspects of your personal pattern and plan. You receive an audio recording (CD) of your session that you can use for reinforcement should the desire ever return.
Session Three
Follow-up/Relapse Prevention
6-7 days or more after your Quit Day (Session Two)
Review challenges and successes
Troubleshoot
Work to remove any dependency on nicotine replacements like gum
Hypnosis suggestions about making sure this is the LAST TIME you ever have to quit smoking because you have chosen to be a non-smoker, permanently 
Most people find the process is gentle yet powerful. And you will certainly enjoy the freedom and pride that comes when you stop smoking cigarettes. Though no one can guarantee your success (each smoker is an individual), click below for few comments from the hundreds of smokers I have helped become non-smokers.
NEW: THE EXPANDED STOP SMOKING HYPNOSIS PROGRAM
Afraid of relapse? The Expanded (5 Session) Program includes initial basic stop smoking hypnosis plus two additional sessions spaced days, weeks or even months after your quit date to assure you do not go back to smoking. My success rates are based on the three session program. You may not need this expanded approach, but if you are the sort of person who has relapsed in the past after weeks or months, this may be your safest and most cost-effective option.
My Client's Amazing Cigarette-Free Success Rate
is Something I am Very Proud Of.
I had an appointment with another hypnotist…
"I went to John eight years ago to help me stop smoking.  I had tried the gum and other things, but nothing worked. I had smoked for fifty years and was a confirmed heavy smoker. I liked his approach form the beginning. What I liked the best is that I could continue to smoke between the first and second sessions and smoke less between the next sessions. I believe that there were four sessions. During each session I would don head phones and John would speak to me in his soothing voice and I became quite relaxed. He would not chastised me for smoking or talk to me about the hazards of smoking--none of that. Between sessions, I would listen to the tapes of each session at home. I thought that I could never quit, but I did thanks to John.  The first few days were not as difficult as I envisioned. I have not smoked since nor have I had the urge. My nicotine addition is history thanks to John. I bless the day that he came into my life and he was not my first choice. I had an appointment with another hypnotist and he did not show for the appointment! Thank God, and I found John. Al M., Providence, RI"
John Koenig changed my life….
"John Koenig changed my life..... In so many ways... I stopped smoking over ten years ago , he helped me deal with stress... To me he will always be my hero... Thanks John Susan L., Rhode Island"
I can honestly say I will never smoke again…
" It has been a couple of weeks and all is well, in fact I can honestly say that I will never smoke again...Thanks to your help!!! I feel great too. I had an irritating little throat clearing cough for quite some time but I am happy to say that it is gone. My best friends boyfriend of 8 years died suddenly May 9th of a heart attack. He had just turned 48 in March. His only vice of late was smoking.. We are the same age and he was also the best man at my wedding. I have known him for so long and it was very stressful dealing with all of the sadness and all of the emotions involved in his sudden death. If I was ever going to smoke again I am sure it would have been then. But I didn't and I know I never will again... There are no words perfect enough that I can say to you to express how grateful I am for your help. Thank You Always, Susan S. (Franklin, Massachusetts)"
Less than 7% of smokers who try to stop smoking on their own succeed as measured by being nicotine free a year later.  This means 93% of stop cessation attempts fail (source: American Journal of Preventive Medicine). You might say through my hypnosis/coaching program and your focused efforts that your success potential can go up by 1000%.
I monitor my client's success statistics in an on-going study – once we have worked together you will receive periodic update requests to validate your continuing success – with reinforcement discounts if you feel booster sessions will be helpful.

 Again, no one can guarantee you will stop smoking. You have free will. But here are some results that were statistically generated in a controlled study. It shows single session hypnosis increased a smoker's success chance by close to 1000% from 6% to 60%. My three session program strives to beat these results.
Success Rates for
Different Stop Smoking Techniques
60% – Single session Hypnosis
24% – Acupuncture
10% – Nicotine Replacement Therapy
6% – Willpower alone
Source: New Scientist, vol 136, issue 1845,  Oct 31st 1992
I never thought I could quit
"After 40 years of smoking up to 2-packs a day, I never thought I could quit and thanks to you and hypnosis I have.   Words cannot express how pleased  I am with this result. Thank you. R.M. (Pawtucket, Rhode Island)"
Costs to Quit Smoking with Hypnosis (or should I say the savings?)
The total cost of my three session individual smoking cessation program is only $315 This includes your free CDs of your hypnosis sessions. The program is customized to your unique smoking habit, motivations to quit, and results with prior attempts to become a non-smoker.
The cost of continuing to smoke? Well, in many ways it can't be measured. What is it worth to someone to avoid lung cancer?  Heart disease? Damaging their family's health with second hand smoke? Their feeling of being out of control of their life? But just considering the financial cost of cigarettes, using individual hypnotherapy sessions to quit program is a bargain.  Here is a quick estimate how long it will take you to "earn" based on packs of cigarettes that you don't smoke at $8.50+ a pack….
| | |
| --- | --- |
| Cigs Smoked Daily | Time to Payback |
|      3 packs |       11.2 days |
|      2 1/2  packs |      13.4 days |
|      2 packs |     16.7 days |
|      1 1/2 packs |       22.4 days |
|      1 pack |       33.5 days |
*A pack-a-day cigarette smoker now spends $3200 for cigarettes annually. At $3.46 state tax per pack, Rhode Islanders pay more state tax per pack than residents of any other state.
Of course there is always the chance quitting cigarettes will save your life.
If I was ever going to smoke again it would have been then….
"It has been a couple of weeks since our hypnosis sessions and all is well, in fact I can honestly say that I will never smoke again...Thanks to your help!!!  I feel great too. I had an irritating little throat clearing cough for quite some time but I am happy to say that it is gone.  My best friend's boyfriend of 8 years died suddenly May 9th of a heart attack. He had just turned 48.  His only vice was smoking. We are the same age and he was also the best man at my wedding. I have known him for so long and it was very stressful dealing with all of the sadness and all of the emotions involved in his sudden death. If I was ever going to smoke again I am sure it would have been then But I didn't and I know I never will again.  Thank You Always, Susan S. (Franklin, Massachsetts)"
I am confident of being a non-smoker
"Everything is going just great! I am confident of being a non-smoker and have no doubt this is going to last....Your hypnosis "program" is working fine ( I don't really know how it  works but it does and that's all that matters). Thanks for your help. J.B. (Warwick, Rhode Island)"
9 or 10 weeks SmokeFree and loving it
"I wanted to keep you updated on my progress. I believe today is 9 or 10 weeks SmokeFree and loving it, in-fact I hate being around someone who is  smoking. Everyday there are times that I feel like having a smoke, but I wait a minute and the feeling goes away. Thanks for Your help and have a very happy and safe holiday season. B.I. (S. Attleboro, Massachusetts)"