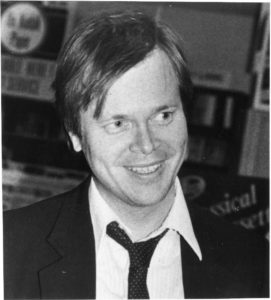 Andy Warhol said that in the post-modern world everyone would get his or her 15 minutes of fame.
Recently, someone reminded me of my "15 minutes of fame" when he sent me this article in the Providence Journal when I first produced Hypnovision Video: the world's first subliminal/hypnotic video program series. Exciting times. Got on NBC and ABC News and into every bookstore in the country. The picture to the left is me back then (with hair).  Yep. It was great while it lasted. Here is the article picked up by the Chicago Tribune.
Hypnosis Fights Via Video
Now he makes hypnotic videos that try to persuade people to lose weight and give up smoking.
Through his Self Improvement Video in Providence, R.I., the part-time hypnotist has turned his sideline company into a full-time job that has marketed 20,000 Stop Smoking and Weight Loss Hypnovision cassettes across the country. Last summer he released Stress Reduction, a 20-minute relaxation video that was photographed on the quiet beaches of Block Island, R.I., and in the clouds above it.
The first half of Stress Reduction shows waves crashing on the beach while Koenig tells you softly to let your body loosen up and go rubbery, starting with your toes and working up to your head. While you watch the surf he encourages you to breathe in deeply, hold your breath for a second, and then breathe out slowly. A couple of times a minute a subliminal message urging you to relax is flashed on the screen. It`s too fast for the
eye
to grasp, but Koenig says it registers in the mind.
In the second half, Ron Fournier`s soft music takes you on a trip through clouds, finishing up on the beach where the word "stress" written in the sand is wiped away by a wave.
He got the idea for Hypnovision, he says, while making a video for the Women`s Advertising Club of Rhode Island. He realized that he had put too many hypnotic components into the message when he started going into a trance. Previously he had used hypnosis to help friends get through childbirth or develop creativity in their advertising jobs.
"My programs come from the wonderful world of advertising," he says, and operate on the principle that if you can sell cake mixes, you can sell weight loss.
Koenig says that last year a student at Iowa State University used his Weight Loss video to see if she could isolate the subliminal message components of it–EAT LESS, GET ACTIVE, YOU CAN DO IT, EAT SLOW–and if they worked in getting people to lose weight.
"She found out that the program worked with or without the subliminal message," Koenig says, "and that the average person lost 2 1/4 pounds. Seventy-five percent of the people involved in her study attributed their weight loss to the Weight Loss video."
The 37-year-old Koenig duplicates about half of his videos in-house; he has distributed locally to stores and nationally through ads in video magazines. He sells about 200 a week this way at $29.95 each. The other half of his business is through licenses to other companies that produce the tapes from a master reel.
By August he plans to release a tape on self-hypnosis and one on building self-confidence.
Sorry – don't sell them anymore – not even sure where the mastertapes are if they exist.
Here is my newest offering and a description.