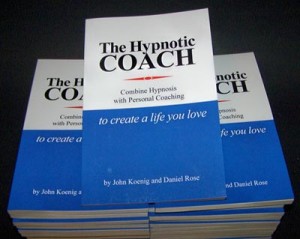 A preview of my book

The Hypnotic Coach

co-authored with Daniel Rose of New Jersey
These first few pages describe Hypnotic Coaching or Hypnocoaching® and how it is different from hypnotherapy or traditional therapy and counseling

. Please understand that if all you want to do it quit smoking, lose some weight, get ride of a bad habit or two, Hypnotic Coaching is not necessary. The Hypnotic Coaching relationship is for someone who wants to make a major shift (new career, new relationship, etc), not for the kind of fast changes that represent 90% of my practice.

While supplies last, you will get a free copy of The Hypnotic Coach at your first session whether you come to quit smoking, lose weight or handle a troublesome relationship with hypnotism
or actually become a Hypnocoaching Client.
What is a "hypnocoach" and how will one help you achieve your goals?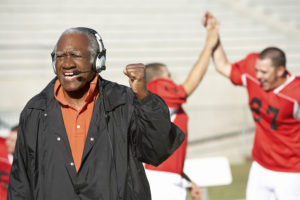 Whom do you picture when you think of a "coach"? Knute Rockney in the locker room urging the team to "win one for the Gipper?" Vince Lombardi? Your high school basket ball coach?
Today, a coach is just as likely to be someone who supports a business person to move ahead in his or her career or helps an overweight person to lose weight and get fit. It is an exciting, new field called Personal and Life Coaching. And the coaching isn't done in a locker room or on the playing field. Instead it is typically handled through a combination of face-to-face meetings, e-mail and telephone conversations.  The topics at hand aren't field goals and touchdowns (except metaphorically) but personal and business goals such as time management and career success.
These latter day Newt Rockneys do for ordinary people exactly what sports coaches do for athletes. They help their clients play their best and win. Only the game they coach is the "game" of life and the stakes are satisfaction, contentment and prosperity. No locker room. No whistle around the neck. And the only "sweat" is the effort a client puts into achieving his or her goals.
Personal and Life Coaching is a new profession. It appeared on the scene in the early 1990s.  Yet it is estimated that there are already 14,000 full or part-time professional coaches in the US and the number is growing.  People who use coaches rave about them and the rapid progress they are able to make in career and personal issues.
The process typically consists of periodic face-to-face or phone-to-phone meetings. When done by phone these meetings usually last half an hour. They are supplemented by "homework assignments" designed to move the clients toward their goals. Many people never even meet their coaches in person but communicate only through the phone and e-mail.
If a client doesn't already have clear cut goals and a personal vision for his or her life, a coach will help them develop a comprehensive vision and action plan. He or she will help a client create goals that are specific and reasonable enough to be achievable yet challenging enough to be motivational. They will help the client make absolutely sure that their "vision" for their life reflects what they really want, not what they think they should want.
Once a client has established a vision and goals, one of the greatest benefits of a coaching relationship is simply being held accountable for moving forward. A coach is expected to keep a client pointed toward their objectives especially when they forget, get sidetracked, or discouraged. A coach keeps the client's vision alive despite the erosive effect of the day-to-day demands of living. A coach isn't a goal achievement cop. The client will not be yelled at or belittled if he or she fails to complete the homework assignments. The coach's job is to simply bring the client back to his or her vision. It is up to the client to take it from there.
Adding motivation and inspiration is also part of the coach's job description. The client's active cooperation is essential. Meet a competent coach halfway, and you can be pretty much assured he or she will provide the motivation, guidance and support that you need to succeed.
Who can benefit from hiring a personal coach?
The short answer is anyone who wants more out of life. More satisfaction. Financial security. Career accomplishment. A happy relationship. Health. Balance. Spirituality. All are possible coaching areas. If you want to leave the corporate fast track and get into a more balanced lifestyle, a coach will help you do this. If you want to move ahead aggressively in your career, you will find a coach that is right for those goals.
According to Coach U (www.coachu.com), a prominent coaching educational and referral organization, you can expect a coaching relationship to deliver many benefits. "You take yourself more seriously," the organization attests, "you take more effective and focused actions immediately. You stop putting up with what is dragging you down. You create momentum so that it's easier to get results. You set better goals that are more exactly what YOU want."
A successful coaching relationship requires that the person being coached bring a certain amount of humility and open-mindedness to the relationship. A client has to be willing to consider the coach's point of view. After all, this is what he or she is paying the coach to provide. The client must be willing to tell the truth even if it is unflattering or painful to relate. It does no one any good for a client to say that he or she has accomplished the week's homework when they haven't. It is useless to solemnly tell a coach that you want to save humanity when you would much rather focus on doubling your net worth in the next three years.
The coaching relationship is fueled by trust. Personal chemistry is an essential requirement. A potential client is wise to interview several coaches before entering a coaching agreement. It's important that a client feel comfortable with their coach personally and confident in the coach's competency to deal with their specific situation.  Each coach has certain areas that he or she is better qualified to coach. Some have specialized business or career expertise. Others specialize in helping people with particular challenges such as Attention Deficit Disorder, mothers reentering the work force, new retirees or other people in transition. Typically, a coaching relationship has a specific time period. At the end of the contracted time period, the coach and the person being coached review the progress made and determine whether the agreement should be renewed.
Coaching is an exciting new field and if present growth is an indication of success, it is here to stay.
Whom do you picture when you hear words like "hypnotherapist" or "hypnotist"? Svengali with his dangling watch A mysterious stranger saying "Just look into my eyes?" A stage magician at a high school prom?
Let us suggest that you try a new view of hypnotism instead. Imagine a technique that lets you access your full human potential. A method to predictably, easily and permanently make the important personal changes with which you've been struggling: lose weight, stop smoking, decrease stress, increase confidence or creativity, motivate yourself, become assertive, minimize or manage pain, achieve your fondest goals.
These are the kind of achievements that hypnotism is making a reality for thousands of people every day.  It is performed by ordinary people who are committed to helping other people achieve extraordinary results.
The problem with hypnotism is that its fame doesn't come from the good work that it does. Unfortunately, hypnotism has been popularized by the media in the most dramatic and unrealistic way possible.  Hypnotists have been portrayed as supernaturally powerful individuals who emanate a magical attraction that disables people's wills and turns them into mindless robots. This is not even close to the truth. In reality, all hypnosis is self-hypnosis. The hypnotist is merely a guide to help the client into trance, a state of relaxation and focus, and then to effect positive changes.
A hypnotist is a special kind of professional. He or she is an expert in the domain of the subconscious, and comfortable working with fears as well as dreams and limitless possibilities. A hypnotist has taken a stance that something beyond ordinary consciousness happens in the work they do.
You might think of a hypnotist as a modern day shaman. Despite all the trapping of modern science, the hypnotist is a master in the unseen world of the human imagination. He or she will always be something of a showman, no matter how vehemently they may deny it.  The hypnotist must capture client's imagination in such a way that the client can enter a trance state. This requires some verbal magic. The hypnotist sells the client into suspending conscious analysis and going into a trance. Then, while in a trance, he or she inspires the client to make changes. While this takes place at a subconscious level, it is the conscious use of the imagination that is the real doorway to the subconscious.
Now, what picture comes to mind when you hear the term "Hypnotic Coach"?
Hopefully it isn't Vince Lombardi with a dangling pocket watch. In fact, chances are that no pictures come to mind because you have never heard of hypnotic coaching before you picked up this book.
This is because hypnotic coaching is an even newer idea than personal and life coaching.
A hypnotic coach is a coach who uses hypnotism to accelerate his or her clients' momentum toward their goals. Whereas a traditional coach works with a client on goal setting, accountability and motivational support, the hypnotic coach also adds the power of hypnotism.  These sessions help the client break through barriers that he or she has identified in the coaching sessions as holding him or her back from full self-expression and success.
A hypnotic coach is also a hypnotist who uses the discipline of coaching to deepen hypnotism's effectiveness by applying conscious as well as subconscious support.  He or she has training and experience in personal and business coaching as well as in hypnotism and uses both to help the client achieve his or her goals.  Unlike a hypnotherapist, a hypnotic coach does not claim to perform therapy. He or she works with people who are well and wish help to achieve at a higher level.
This is not to say that a hypnotic coach will not help a client unearth and break through personality traits that are barriers to success and happiness. However, "fixing" people is not the purpose of hypnotic coaching, simply a byproduct of helping the client reach his or her goals.
A good way to think about hypnotic coaching is as full throttle, supercharged coaching.   Many factors hold people back from achieving their dreams. Hypnotism provides the emotional force necessary to create and sustain motivation. hypnotic coaching is a powerful tool that keeps you moving despite whatever barriers may arise.
Why a Hypnotic Coach instead of a regular Personal and Life Coach?
Have you heard it claimed that people only use 10% of their minds?  Usually it is said as if some authority had measured people's minds on a laboratory scale and determined that 90% of the average human mind was missing. People might concede that a genius such as Einstein probably used 15% of his mind, but that most of us are at the 10% level, or below.
The average person seems content to chug along doing the best he or she can on 10% of their brainpower functioning. Our flashes of genius or inspiration are most often variations on some earlier theme. And we happily settle for this. After all, no one else seems to be complaining about the missing 90% capacity that theoretically lies virgin somewhere, undiscovered and seemingly undiscoverable.
We think this because of the occasional flashes of brilliance that appear to come from nowhere when our mind seems to be working on overdrive. Often when we are thinking about something else we "get" the answer to a problem that had resisted all conscious attempts at a solution. We have no idea where the solution came from, only that it simply arrived rather than laboriously being given birth by conscious effort. Sometimes paradigm shifting ideas even come to us in dreams or reverie states when we are far from full consciousness. Some of these flashes of insight are quite well known such as Coleridge's dream in which he envisioned his "Kubla Kahn" poem in its entirety and had only to awaken and write down what he had seen.
Consider your own experience with ideas. If you are like most people, you have had similar experiences using your own creative process. That is why you picked up this book. You are searching for the missing 90% of the mind.
Likely, you also instinctively feel that you have greater resources of persistence, willpower and courage than you currently use.  These resources are hidden in the subconscious.
Hypnotic coaching is designed to give you the best of both worlds: conscious and subconscious support.  By addressing both the conscious and subconscious mental functions, hypnotic coaching seeks to open the door to the other 90% of your mental capacity. Ordinary coaching does not offer you this added dimension.
What kind of barriers can hypnotism help you break through?
You name it. Everything that holds people back is within the domain of the hypnotic coach, including:
Failures of Vision
"What the mind can conceive the mind can achieve" is more than a cliché. It is an axiom of human experience. And, by the same token, whatever the mind cannot conceive it cannot achieve. Through hypnotism the hypnotic coach instills in the client's mind a clear, vivid, and compelling picture of the result he or she wishes to create along with a belief that it can be achieved.
Maxwell Maltz popularized this idea in his book Psycho Cybernetics. He portrayed the human mind as a kind of computer program that automatically directs us to whatever goals we most vividly imagine for ourselves.  For many people, their computer-brain is heading them into failure or some form of less than ideal performance. The hypnotic coach breaks this cycle and makes the seemingly impossible becomes possible.
Ratonalizations
All of us use excuses in some areas of life to rationalize our poor performance.  The excuse becomes kind of a consolation prize.  We don't win but we have satisfactory, reassuring reasons why losing was rational, logical and not our fault. In this way, we protect our own egos from self-knowledge and responsibility.  A hypnotic coach uses hypnosis to break through excuses into success.
Any coach works to push a client through the illusion that his or her fate is beyond the client's control through conscious consultation. What the hypnotist can do is help the client remove that excuse so that in the future it is no longer a potential problem. Instead of being "too busy" to complete a project, a hypnotic coach may hypnotize a client to believe that the busier he or she is the more productive. Instead of feeling too young to achieve goals, a client may be hypnotized to think of youth as a decisive advantage. Instead of feeling too old to achieve goals, a client may be hypnotized to think of experience and wisdom as providing an edge.  The hypnotic coach creates new, compelling beliefs that generate positive outcomes.
Procrastination
Procrastination is a central problem for all people in every field, whether business, medicine, education, the arts or government.  Putting off until tomorrow what we can do today is as prevalent a psychological ailment as the common cold.
Procrastination, ironically, is a strategy designed to help the procrastinator avoid pain or discomfort. The procrastinator puts off unpleasant, difficult, or risky tasks and decisions that need to be completed to support his or her life and well being. In its mild form, procrastination is an annoyance. We laugh it off as a personal quirk. At its extreme, procrastination robs people of accomplishment, peace of mind, money, self-esteem and satisfying relationships. Procrastination can cause people to literally lose their jobs, endanger their health, ruin their relationships and sabotage their chances at success.
In their book Procrastination: Why You Do It, What to Do about It, authors Jane B. Burka and Lenora M. Yuen state that a procrastinator puts things off to protect his or her "fragile sense of self-worth."  Procrastination becomes a way to avoid being judged, controlled or rejected. Its roots can be seen in a procrastinator's childhood "programming" and beliefs. Consider the types of comments that children hear and internalize from the proverbial "If it's worth doing, it is worth doing right" to the downright vicious "Why can't you do anything right?" attitude. The procrastinator wants to be independent of others because he or she is afraid of losing control or being rejected. The procrastinator avoids putting himself in positions where he or she can be judged. Incomplete projects, for example, are a perfect way of avoiding judgment and rejection. Who is to say whether an unfinished book is or is not a masterpiece if no one sees it? A procrastinator wants to avoid this risk and postpones completion, preferring to keep the illusion of success. The procrastinator doesn't take the course that could lead to a better job. They have no chance of failing and can daydream about their certain success.
Procrastination buys leisure at the cost of lack of future satisfaction as the fable of the ant and the grasshopper illustrates. You remember this little illustrative tale. The ant works hard all summer to assure a secure, comfortable winter. The grasshopper spends his summer playing his fiddle with the hope that someone will take care of him or some other miracle will occur when the days start getting shorter.
A traditional coach can address these issues consciously. But he or she is not equipped to break through the underlying problem of poor self-esteem and negative conditioning that cause procrastination. These are areas where hypnotism is very effective. Instead of being stopped by a poor self-image, a client is guided to modify the original conditioning and create a new, more successful image of him or herself.
We cannot overemphasize the value of this kind of self-image building in hypnotic coaching.  As long as a person is afflicted with thoughts of worthlessness and failure, he or she is going to bring those unfortunate images to reality.
Hypnotism is a way out of the endless re-playing of "old tapes" that leave people dissatisfied, angry at themselves and the world with underachievement as a lifestyle.
By adding the powerful dimension of the subconscious, hypnotic coaching allows a client to progress more rapidly than traditional coaching with an ease and a grace that often surprises the client and amazes others.
Why a hypnotic coach instead of a psychotherapist?
Coaches are trained and equipped to work with people who are well.  A psychotherapist has specialized training in dealing with the problems of the mentally ill or, at least, of the emotionally disturbed.  Hypnotic coaching, on the other hand, is not therapy. Hypnotic coaching begins with the assumption that the client is a powerful, healthy individual who simply is experiencing some barriers to realizing his or her full potential.
Hypnotic coaching is a way people are helped to realize their dreams more rapidly and fully than they could on their own.  If you have emotional problems that you need to address, by all means you should seek out a competent psychotherapist.  But if your goals are improvement, not therapy, hypnotic coaching may be right for you.
Why a hypnotic coach instead of a hypnotherapist?
A "hypnotherapist's" emphasis and training typically centers around hypnotism and usually little else. Hypnotism is a technique designed to manipulate the subconscious mind for behavior and attitude change. A coach adds a dimension that is missing from traditional hypnotherapy. This missing and vital dimension is coaching in the normal conscious state. Officially only a licensed therapist should call themselves hypnotherapists. But many people incorrectly use this title which adds to confusion.
At least half the face-to-face time a client spends with the hypnotic coach takes place on the conscious level. This coaching in the normal conscious state includes helping the client clarify his goals using logical analysis. It also includes helping the client understand how his or her goals fit together, complement or compete with one another. The hypnotic coach then helps the client identify what barriers and pitfalls he or she may expect to face on the path to success in the normal conscious state.  All of this work is best accomplished at the normal conscious level. This is home to the executive function: decision-making and planning are the kind of activities at which it excels.
The coach also gives the client homework assignments whose purpose is to further the client's progress. These homework assignments are carefully designed to keep the client in motion moving toward his or her goals. They typically include listening to hypnotic recordings of the session. But equally important, they usually ask that the client do something to take a step or two toward the goal.  The homework assignments for a shy man might be to make a call to the woman he is interested in or even engage her in a neutral, non-romantic conversation.  It might entail having a real estate salesman who is afraid of making cold calls make at least one cold call between sessions.
As the hypnotic coaching relationship continues the client is guided to do more and more between sessions until ultimately his or her goals are achieved.
Additionally, unlike a typical "hypnotherapist", the Hypnotic Coach is in contact throughout the process, checking on homework, offering support as barriers to success are encountered. The ordinary hypnotherapist will hypnotize the "subject" one or several times and then leave it up to the subject to make, or not make, the changes they have targeted. There is little, if any, follow-up. The Hypnotic Coach holds the client responsible for achieving his or her goals on a weekly, sometimes daily basis. This accountability gives a hard edge to whatever efforts the client is making.  He or she knows that they will have to answer to the coach whether they keep their word in working toward their goals or not. The hypnotic coach is not a goal achievement cop.  He or she is simply a committed outsider who is able to hold the client's goals and commitments in mind even when the client temporarily forgets them. The difference this accountability can make is enormous.
There is also the aspect of intrusiveness.  The hypnotic coach asks permission from the client at the very start of the relationship to be intrusive in their life. The hypnotherapist has no such formal permission and is therefore more limited in the areas he or she can work within. The client in turn agrees to give the coach the benefit of doubt when trying on the coach's suggestions, both conscious and subconscious through hypnotism.  This coaching relationship goes far beyond the rapport that a hypnotherapist and a client create during the actual hypnotic sessions.
Length of relationship is another distinguishing factor.  Hypnotherapy is typically very brief therapy. This is one of its strengths.  Occasionally it achieves results in a few sessions that psychotherapy can't even in years of hard work. But once the client is "cured" he or she rarely sees the hypnotherapist again unless there is a relapse or some other issue comes to the fore.  A hypnotic coaching relationship by definition covers a lengthier period of time.  A minimum of three months is a minimum commitment. Often the relationship lasts much longer as a client grows into new needs and desires.
These differences offer the client a broader field of applications, more depth in solidifying their goals and identifying the barriers they face and more velocity in achieving those goals.
You can think of hypnotic coaching as ultra-high powered coaching or more in-depth hypnotherapy. But by combining the best of both techniques, hypnotic coaching becomes a distinct discipline that offers a series of unique and powerful benefits.
As new as traditional personal coaching is, it is nonetheless far easier for most people to get a handle on how it works than it is to understand hypnotism.  Hypnotism has always been a great mystery and source of controversy.
Simply put, personal and life coaching operates in normal consciousness.  Hypnosis, however, is an intermediate state of mind. It bridges the conscious and subconscious mental functioning and is experienced as trance. Hypnosis is and has always been the simplest, most direct, natural key to entering trance and unlocking the mind's potential.
The merger of personal and life coaching with hypnosis offers a conscious and subconscious structure that provides access to the entire mind.  Specific, targeted hypnotism sessions are used to affect breakthroughs in key areas once those areas have been identified through conscious analysis.  The areas targeted will be those in which a barrier is blocking the client's success.  Through application of hypnotic suggestion, the client is enabled to bypass these barriers or to break through them.  The coaching aspect of hypnotic coaching provides the structure.  Hypnotism provides the mental energy.
In this book we will explore hypnotic coaching as a dynamic tool that can, will, and does maximize human potential.  We will also look at the fact that hypnotism itself is a vastly underutilized technique for personal change.
You can purchase The Hypnotic Coach for $14.95 on amazon.com by clicking here